10 Marketing Tips for Authors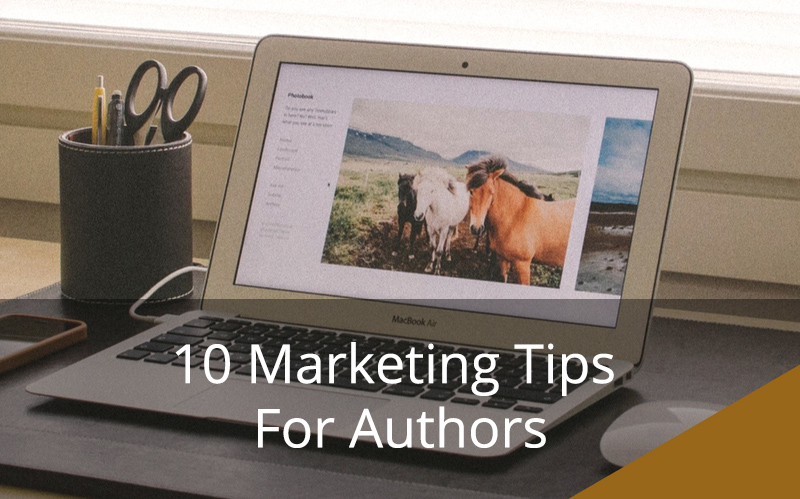 Website: As an author you must have a website. It doesn't have to be anything fancy, but you must have one. This is the place where readers find all the information regarding you as the author and your books. Have purchase links, an updated biography, and all your contact information and social media links.
Social Media Presence: Choose at least three social media platforms and be active on them. Post at least once a day on them.

Give readers a reason to follow you.

Content Calendar: Plan out your week, content-wise, for social media. Consider taking one day to brainstorm and organize your posts. Planning ahead will make it easier to maintain your accounts active and keep you scrambling last-minute for ideas.
Re-purpose Existing Content: Study and evaluate your posts. See what's worked and what hasn't. What has gotten the most attention from readers and fans and what has, well, flopped. Take the topics that have gotten the most attention and re-word, develop other posts from that original content.
Newsletter:Start acquiring email subscribers ASAP. Send out weekly, biweekly, or monthly newsletters that include perks, exclusives, sneak peeks, etc. This is a great way to connect with your readers!
Interaction: Engage with your fans. Be approachable to your readers. Support and connect with other authors, especially those within your genre. Get people talking about you. Word-of-mouth is one of the most effective marketing tactics (and it's free)!
Cross-promote: Contact other authors that have books similar to yours (genre, main topics, etc.).  Network with and through them. Of course, don't expect them to just promote you. You should also offer to promote them on your end.
Reviews: Reviews go hand-in-hand with word-of-mouth. Reviews during release week are especially important because it's when readers are most researching your book on retailers. Very important: don't worry about negative reviews! Every, single author will get them. It's a fact. Ironically, they're also helpful. There are a lot of readers that buy books based on the negative reviews. Reason being, they don't "trust" books that only have 5-star reviews. So, hey, there's always a plus side. Learn from the constructive criticism provided in them and grow as an author.
Bloggers: DON'T start off by asking bloggers to share your work. First, find their social media platforms and follow them. Make sure your book is in fact something they'd read and/or promote. When you decided to contact them, find out their name and address them by name. Personalize the email. Show them that you have invested time in them and that you care about them, and not just about getting your work promoted. Be nice and approachable too!
Budget: You should establish a budget per book based on what you've spent on publishing it.See what ads and promotions you can afford. It's always good to invest in marketing, but don't break your bank account either.